Introducing the "Weekend Marketer Live Workshop" Event – in Los Angeles October 6th through 8th, 2017!

"The Three Day Event That Will Change Your Approach to Online Marketing Forever, No Matter Which Business Model Your Choose And How Long You've Wanted To Be Successful As An Entrepreneur"
October 2017 Theme:




Multiple Streams of Income, With An Emphasis On Positioning Yourself As An Expert In Your Field
***We'll Be Creating An Information Product Together As A Team During Our Weekend Together!



I'm Connie Ragen Green and I've been working exclusively online since 2006. For the twenty plus years prior to this I worked as a classroom teacher, real estate broker, and residential appraiser. For all of those years I worked six to seven days a week, struggling to make ends meet and rarely taking a vacation. It was exhausting, and finally the teaching job became one I no longer loved.
During this time I missed every major event in my family – anniversaries, birthday celebrations, graduations, and more. Even the one time someone in my extended family became a U.S. citizen I was unable to get the time off work to attend his ceremony. You can imagine how awful this made me feel, like I was a child asking for permission from my boss to be able to enjoy these memories with my loved ones. Finally, family and friends stopped asking me to join them and I felt even worse about my situation.
I was forced to make the choice of what would be a priority in my life, and paying the bills was right there at the top. If you have experienced anything like this in your own life, or know what it's like to have to decide which bills to pay at the first of every month, then the Weekend Marketer Live event could be exactly what would make the difference for you during 2017 and beyond.
Who Is This Workshop For?
The Weekend Marketer Live event is geared towards the newer online entrepreneur, but still relevant for you if you already have some experience earning income online. If this is your first year online, or if you've been working on your business for a couple of years and still are not earning at least $1,000 a month consistently, then I want you to join me in Los Angeles and learn exactly what you need to do to move forward quickly.
What makes this event unique is that you will have me and several others who have a "teacher's heart". We will be there with you throughout the three days of the Workshop, answering your questions, explaining in great detail, and taking you by the hand to guide you through the material we'll be presenting.
This time our theme is "Getting Started With Multiple Income Streams" and the focus will be on showing you exactly what you need to do to get started in the lucrative world of marketing. My expertise is in the areas of affiliate marketing, information product creation, and authorship, and I have experts in several other areas who will be sharing their knowledge of selling physical products on Amazon, building your "Dream Team", networking at live events, local business marketing, and technology for online business.
Why Would You Want To Attend Weekend Marketer Live?
The competition to be successful online is greater than ever these days. You deserve to have an edge to get your business up and running and profitable in as short a time as possible. The goal and intention of this event is to accelerate your learning curve immensely, allowing you to jump start your progress and achieve optimal results.
I will be sharing all of my secrets, tips, methods, strategies, and shortcuts with you in a well thought out, step by step plan to help you succeed. Additionally, I'm bringing in additional trainers, hand-picked from my community and Circle of Influence, to share their knowledge, experience, and expertise with you.
What's Weekend Marketer Live All About?
Weekend Marketer Live Workshop is a three day event in Los Angeles (Manhattan Beach) during Friday, October 6th through Sunday, October 8th 2017, hosted by me, Connie Ragen Green, and based on my bestselling book and online course of the same name. It is designed for you if you still have a J.O.B., or if you are already working online and are ready to become a full time marketer and online entrepreneur.
No matter what your background or interests, you will be able to choose a business model that will be right for you to build a lucrative online business you can run from home, or from wherever you have an internet connection. We will explore all aspects of doing business online so that you'll be able to move forward in a way that's right for you and fits the lifestyle you want to create for yourself and your family.
What If You Attend Weekend Marketer Live In October?
By attending this event you will learn exactly what you need to get your business up and running in a big way so you can hit the ground running. You'll also connect with like-minded individuals who understand what it's like to have a home-based business from your computer and are already on the path to becoming successful entrepreneurs. Connecting with the right people early on in your career is crucial to success. And, because I only host "boutique" events, meaning that I cap the number of students at fifty, you will be able to meet everyone during these three days and find the right people to help you move forward quickly.
You will have three full days in a hands-on, workshop setting to learn all of the details of setting up and running online business profitable. No one is born an entrepreneur, and those who do succeed at this know what you will learn during our time together. I want you to succeed!
I promise you that I will not hold anything back, and to be fully accessible to you during our three days together. Fair enough?
Do You Ever Feel Like You've Missed Something?
If you've been trying to build a profitable online business for more than a year and can't seem to put the pieces together, it could be that you have missed pertinent information somewhere along the way. If you have gaps and holes in your online marketing education, this could be keeping you from succeeding in the way you know that you can.
Day 1 is our Mastermind and Brainstorming day, where you will meet the other workshop participants and explore your thoughts and ideas in a safe setting. You then learn "Workshop" style during days 2 and 3. This means that you will be involved in hands-on activities to build your business, instead of simply sitting and taking notes. You'll want to bring a laptop computer or a tablet with you, and I'll provide the Internet connection right there in our conference room. The first day is devoted to masterminding and brainstorming as you get to know people from around the world who have both the potential and the desire to become your friends and Joint Venture partners in your business.
You'll Be A Part Of Three Days Of A Focused, Guided,
And Intensive Workshop Where You Will Work Hands-On With Seasoned Entrepreneurs, Other New Entrepreneurs, Advanced Marketers, And Those Working Online Exclusively…
Meet Your Trainers…



Donna Kozik – Communication and Public Speaking Trainer
I've known Donna Kozik since 2008 and have learned a tremendous amount about authorship, positioning yourself as an expert, and entrepreneurship in general from her. She is an award winning author and the creator of the "Write a Book in a Weekend" training. A former newspaper editor and senior communications specialist, Donna will work with our group all weekend to understand how and why a book makes all of the difference for an online entrepreneur.
Sue Painter – Coach, Consultant, and Multiple Streams Trainer
Sue is a serial entrepreneur who has owned her own businesses for almost 20 years. Besides owning a successful brick and mortar business, she's worked as a coach, consultant, and author online since 2006. She was tapped by Inc 500 business owner Ali Brown as one of 3 coaches for her Elevate Program. Sue currently consults with online entrepreneurs around the world. She has written 3 Kindle books, one a number one best seller. Sue will teach you how to create and grow multiple streams of income, using the exact strategies and methods that have skyrocketed her business to the top.
Adrienne Dupree – "Leave the Corporate World Behind," Amazon Seller
Adrienne and I first met at a live event in 2010, and soon after we became friends, colleagues, and JV partners. She first made a name for herself as the "Leave the Corporate World Behind" entrepreneur, and now she is building a phenomenal business by selling physical products on Amazon. Adrienne will be teaching you how to get started with Amazon FBA, as well as how to say goodbye to your "9 to 5" and starting an online business you will love.
Cheryl A Major – Consistency for Entrepreneurs – More Coming Soon!

Pamela Montgomery – Positioning Yourself As An Expert Through Public Speaking

Pamela is an online marketing strategist who is known for speaking to groups of small business owners and entrepreneurs. She will share how she has positioned herself as a public speaker and why this strategy is so effective. This is your opportunity to learn from someone who is walking her talk effectively and willing to share what she does with you.
Ron Tester –  Taking an Offline Business Online for Greater Impact
Ron is a successful businessman in the brick and mortar world and has learned much during the past twenty plus years. He will reverse engineer the process in a way that will allow you to move fluidly between the offline and online world of entrepreneurship. He is a gifted teacher who will intuitively resonate with the goals you are looking to achieve, this weekend and beyond.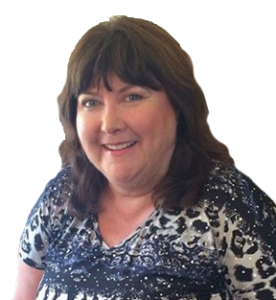 And me, Connie Ragen Green. I will teach and facilitate all of the activities and trainings you will be a part of during our three days together. We will be creating an information product together as a group and team, and you will also lay the foundation for your online business as an entrepreneur.
Let's Work Together to Make Your Entrepreneurial Dreams a Reality!
 Your Schedule…
Day 1 – Today is our Mastermind and Brainstorming Day. Get to know the other participants and trainers in a relaxed setting by the Pacific Ocean. You never know when one passing conversation with someone who understands what you want to achieve will impact the rest of your life. Today we work together to help you lay the foundation for your business, with a focus on having the proper mindset, productivity strategies, effective time management, and thinking/acting for success as an online entrepreneur. Too many people leave this part out, causing years of frustration, overwhelm, and disappointingly little progress. We will discuss how you can establish credibility, increase visibility while building your business and the multiple streams of income that will take you there.
Day 2 – Today the Workshop officially begins and you will begin learning from me as well as several of my hand-picked instructors. We'll go into detail on eight streams of income that will change your life forever. These include affiliate marketing, information product creation, authorship, public speaking, local business marketing, selling physical products on Amazon, membership sites, and social media management. We will also work individually and as a team to create an information product. This product, of which you will be a part owner will launch immediately after the event concludes!
Day 3 – Today we bring it all together with additional monetization strategies that work. Then I'll share my well-honed strategies on how to host your own workshops and events, both live and virtual. You will also have an additional opportunity to connect face to face with people who will help you open the doors to huge opportunities for you over the following weeks and months. The reason I love teaching over a three day period at my Workshops is so that you will leave with your "Big Picture" plan, as well as with a detailed blueprint of how to get started even before you leave Los Angeles.[/su_list]
Personalized Learning In A Beautiful Resort Setting
This will be the seventh event I have hosted at the Ayres Hotel in Manhattan Beach, California. It's less than five miles from LAX and adjacent to the 405 Freeway, so whether you'll be flying in or driving it's most convenient. This location has the most amenities at the best price than any other I have ever seen. The Ayres is a "boutique" hotel, meaning that the staff is there to accommodate you and make sure you have everything you need as soon as you need it. With a touch of authentic Italian charm this has become my favorite venue for the twice annual Weekend Marketer Live Event and Workshop since 2014.
Each room is beautifully appointed, and I'll even assist you in connecting with a same gender roommate. With many stores close by, it's perfect for preparing your own light breakfast or perhaps a late night snack.
The prices are very affordable. The room rate I have negotiated through the special "Weekend Marketer Live" room block gives you the best price, even compared to the discount sites on the Internet.
And the weather is always right for an early morning or late evening swim in the sparkling pool, located in the courtyard just a stone's throw from our conference rooms. Use this as a time and place to relax and reflect on your business, or to engage in conversation with your fellow attendees and trainers. Yes, I'll be joining you!
We'll also be less than two miles from the beach! Walk alongside me and the other entrepreneurs barefoot in the sand and let's put together an online business that will suit your goals and your lifestyle…
Limited To No More Than 40 Participants
I would love to connect with you at this 2017 Weekend Marketer Live Workshop event. It is unlike any of my previous events and sets the bar much higher than many of the events that are currently being offered. Unlike live events with two or three hundred attendees, I prefer to limit my Workshops to a maximum of 40 participants. This ensures that you get to meet everyone who is there, and gives you a more enriching experience overall. Register today to hold your spot and I look forward to seeing you in Los Angeles on Friday, October 6th through Sunday, October 8th, 2017.
---
 

Get Started Immediately!



Register Now And Prepare To Build Your Online Business!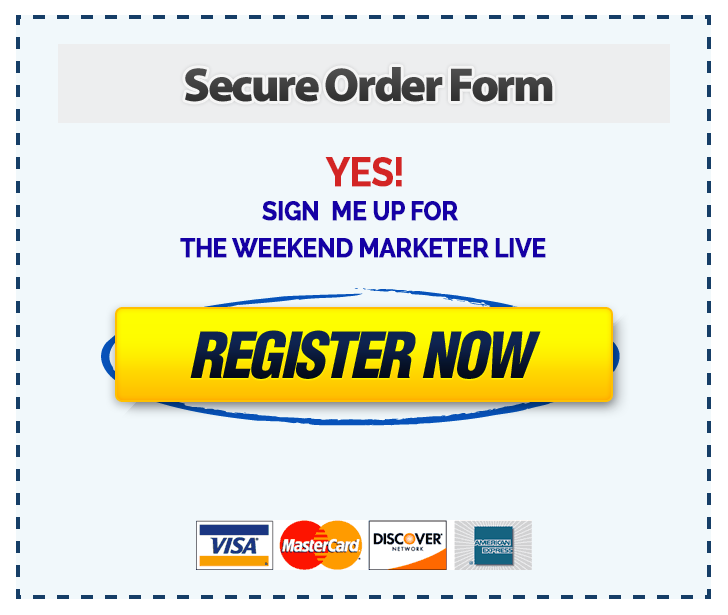 Early Registration Is Now Open!
The Weekend Marketer Live Event Will Be Held In Los Angeles During The Weekend (Friday through Sunday) Of October 6th through October 8th, 2017.
Please Click The Button Below For The All Inclusive Registration Price Of Only $499



Take Action Now – Only $249 Through September 30th!




Please Join Us!



Disclaimers and Legal Rights | Affiliate/Earnings Disclaimer | Terms of Use | Privacy Policy